Overview
HDMI (High-Definition Multimedia Interface) recently has become increasingly popular in the application of video and audio transmission system. In view of the extreme of electrical performances, however, the traditional copper wire cable imposes limits on signal transmission distance and signal quality. In reality, optical fiber is of low dispersion, which in turn has the strength of longer signal transmission distance and better signal transmission quality in comparison to the traditional copper wire cable. DVI/HDMI extender uses 2 cores fiber without any copper wire inside, where radio frequency interference phenomenon is literally ruled out, which shows the advantage of high performance and good signal quality as well as low cost.
High Performance —The LNK-KHX2240 series is a high performance 4K HDMI KVM Fiber Optic Extender that transmits high resolution DVI / HDMI signals over extreme distances using 2 cores fiber. This extender supports HDMI v1.4 signals with resolutions up to 4K (4096x2160 / 30p) over cable distances up to 300m.
Fiber Optic Extension — The extender set consists of an optical transmitter module that converts the DVI / HDMI signals into light pulses for transmission over a 2 cores fiber. An optical receiver module converts the light pulses back to a DVI / HDMI signal for display on a monitor or projector.
Cutting-Edge Optics — Most single-fiber optical extenders transmit signals over multiple optical wavelengths, which can suffer from chromatic dispersion over long cable runs. To avoid this issue, this extender employs a cutting-edge, high-speed SerDes that combines the DVI / HDMI signal channels into a single uncompressed 10.3 Gbps bit stream. This enables the optical transmission of the signal over a single optical wavelength, which provides increased signal fidelity, stability and flawless image quality, regardless of cable length. These features make the LNK-KHX2240 series the ideal future-proof choice for systems designers and integrators who need to transmit high resolution DVI / HDMI signals over extreme distances.
Features
► Real Time Transmission
► Supports DVI 1.0 and HDMI v1.4
► Supports resolutions up to 3840*2160/30p, 4096x2160/30p,3840*2160/60P(YCbCr 420),4096*2160/60P(YCbCr 420)
► Supports 3840*2160/30p resolution with color depth up to 24 bits/pixel
► Supports HDMI bit-rates up to3.4 Gbps/color,10.2 Gbps total
► HDCP 1.2 compliant
► Support 3D TV pass-through
► Support EDID pass-through
► Support USB Keyboard and USB Mouse
► LPCM 7.1, Dolby® TrueHD, and DTS-HD Master Audio™
► Plug and Play
► Built-in EQ(Receiver)
► Up to 300m distance by OM3 Fiber Optical Cable
► Low RFI / EMI profile for sensitive applications
► Surface-mountable
Application
► Digital Signage
► LED signboards in streets and in stadiums
► Medical Imaging Equipment
► Airplane On-board Video System
► Conference Room Video Equipment
► Remote monitor for traffic, industrial, military control
► LCD, Projector, Plasma display connection
► Large video wall system
► TV Broadcast Station
► Home Theater
Technical Specifications
Performance

Compliance

HDMI v1.4

Maximum Pixel Clock Frequency

340 MHz

Maximum Video Bit Rate

3.40 Gbps

Supported Color Depth

24-bit

Supported Resolutions

1920x1080/60p,3840x2160/30p, 4096x2160/30p,

3840x2160/60p(YCbCr 420),4096*2160/60P(YCbCr 420)

Digital Audio Support

7.1 channel LPCM, 192 kHz, 24-bit audio capability

Connections

DVI Input / DVI Output

1x HDMI Type-A Female connector

Optical

1x SFP+ port

Cable

Fiber Cable Type / Max. Length

50/125μ OM3-300 Multi-Mode Fiber: ≤ 1,000 ft. (≤ 300 meters)

Extended function

USB Keyboard x 1 / USB Mouse x1

CEC Support

CEC are NOT supported!

DDC Support

HDCP Pass-through Support

only 300 meters

Mechanical

Construction

High-impact Alufer enclosure

Dimensions (L x W x H)

89mm x 104 mm x 28.3 mm

Net Weight

Environmental

Operating Temperature

32° to +122° F. (0° to +50° C)

Storage Temperature

-40° to +185° F. (-40° to +85° C)

Operating Humidity

5% to 80% (non-condensing)

Storage Humidity

5% to 95% (non-condensing)

Power Requirements

External AC Power Adapter

Input: 100-240VAC / 50-60Hz 0.2A
Output: 5VDC, 2.0A 5/2.5mm jack

Power Consumption

LNK-KHX2240-S: 2.5 watts LNK-KHX2240-R: 3 watts

Warranty

Limited Warranty

2 year warranty
Panel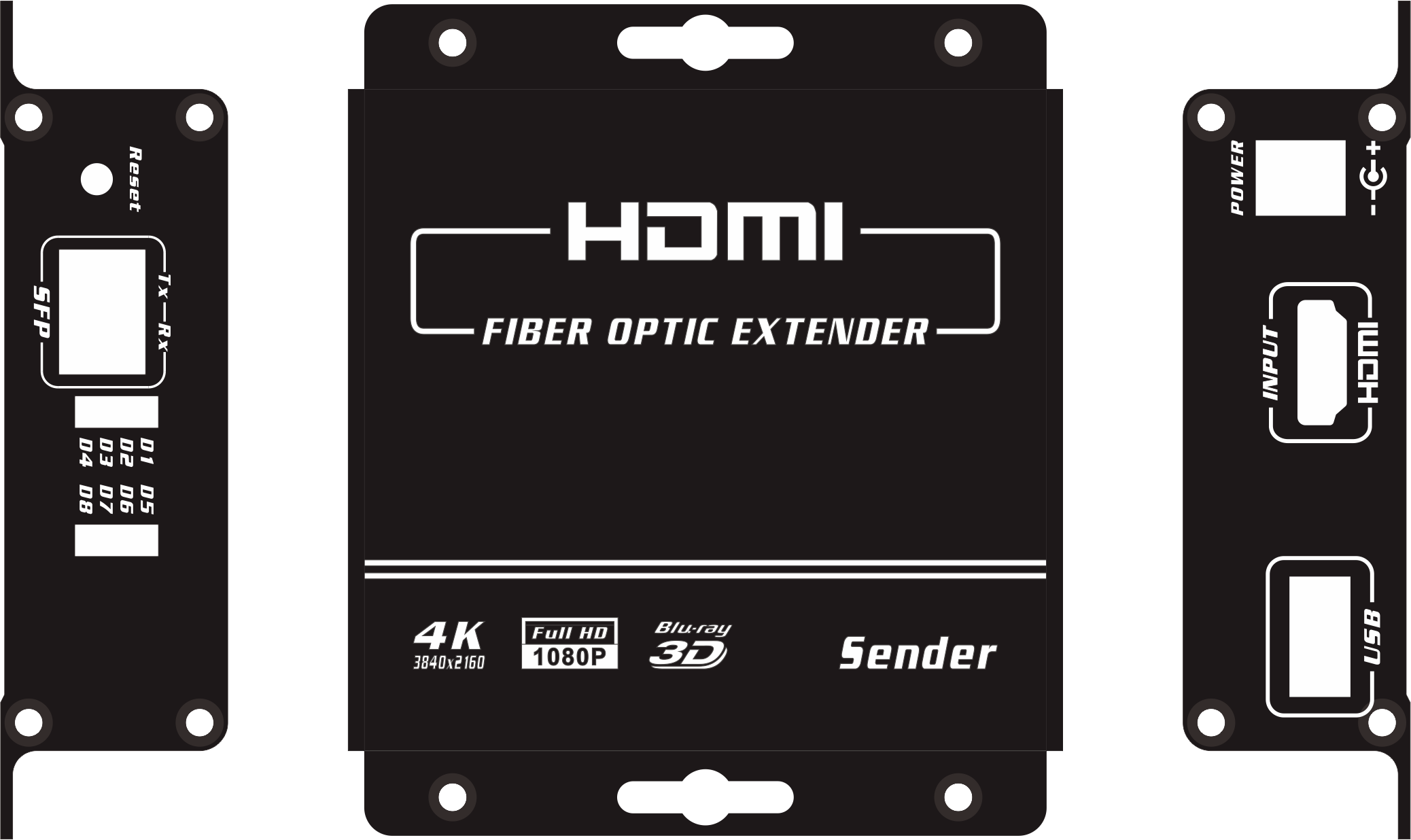 Port name

Sender

Receiver

HDMI interface

HDMI signal input

HDMI signal output

RESET

System reset button

System reset button

POWER

Power adapter socket

Power adapter socket

SFP

SFP+ Module Cage

SFP+ Module Cage

USB

Connect to PC USB Host Controller

1*USB Keyboard and 1*USB Mouse

LED indicator

D1

ON:Power on

ON:Power on

D2

ON:

Receiver Optical input is normal and Receiver have a Displayer plugged into HDMI output port

Reserve

D3

SFP+ RX Optical signal Input indicator

ON: Lost of Optical signal

OFF: The optical signal input is normal

SFP+ RX Optical signal Input indicator

ON: Lost of Optical signal

OFF: The optical signal input is normal

D4

Blinking:

The Source is connected

Blinking:

The monitor is connected

D5

SFP+ TX Fault indicator

ON: indicates normal operation OFF: indicates a laser fault of some kind

D6

ON:USB Device2 Link OK Blinking:Communication

D7

ON:USB Device1 Link OK

Blinking:Communication

Blinking:Communication

D8

ON: Error

ON: Error
Dimensions (mm)

Order information
| | |
| --- | --- |
| Product No. | Description |
| LNK-KHX2240-S | 4K HDMI KVM Fiber Optic Extender Sender Unit |
| LNK-KHX2240-R | 4K HDMI KVM Fiber Optic Extender Receiver Unit |